About Tip A Canoe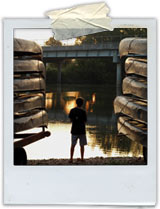 Servicing Wisconsin and Illinois for just under 30 years, Tip A Canoe is here to provide its friends with a paddling experience that will be both fun and exciting. Paddling the rivers of Wisconsin and Illinois can be enjoyed by almost anyone. Tip A Caone is able to accommodate groups that range anywhere from the two-person outing to the corporate gathering. We will tailor your trip down the river so that it meets your length, time and effort requirements. We have spent time scouting access locations as well as picnic and resting areas, in order to cater to your trip. Please feel free to contact us and we will work to arrange a trip for you and your party. Our staff is willing and able to make your journey down the river a memorable experience we know you will enjoy.
Tip A Canoe Canoe and kayak Rental Company rents boats for all types of events and trips.
Trips range in time from two hours to full days, and range in mileage anywhere from 3 miles to 40 miles of canoeing. Depending on timing and ability we can suggest the best launches and take-outs on the rivers. Tip A Canoe rents canoes and kayaks for all types of events and trips. The rivers that we rent boats on are located in the southern portion of Wisconsin and the northern portion of Illinois. Two of the most common rivers we work with, are the Fox River (also known as the Illinois Fox River and the Little Fox River), and Nippersink Creek. These water trails are some of the finest in the area. They offer a variety of picturesque views accompanied by a wide array of wildlife and natural sights.
Click Here For a Larger Version Of This Map With More Details